Becoming an ally to Indigenous people
I want to learn more. Where do I start?
We're often asked by non-Indigenous colleagues who want to become better allies where they can start. Here are a few suggestions and a resource list.
1
.
Start with your own research.
When we say research, we're talking less about becoming knowledgeable and more about approaching relationship-building with a good mindset. It can help you understand your unconscious biases and cultivate the openness and humility so that you can act respectfully. See our resource list below to get started.
2.

Develop a "learning attitude"
Get ready to listen and reflect! Be prepared to hear difficult truths about other people's experiences and yourself. Be aware of your own reaction to what you're hearing and learn how to respond constructively. Are you feeling defensive or personally attacked? Understand that this is not easy work.
3. Go to Indigenous events
Rather than inviting Indigenous people to come to your events or partner on your projects, you can learn by going out to hear speakers, attend demonstrations, visit pow wows and explore the work of Indigenous artists.
A few things to keep in mind when attending events:
Some events or spaces may only be for Indigenous people. Often promotional materials will specify this, but if you're in doubt, asking is better than assuming.

Ask before taking photos or videos. Taking pictures of sacred items and ceremonies is generally considered disrespectful. The same is true for touching any regalia or ceremonial items.

Learn about Indigenous protocols, such as working with elders and offering tobacco.
Questions and concepts to take on the path
What is my motivation for doing this? Who benefits?

How does my social location (race, gender, economic status, age, physical and mental health) affect how I see any given situation? How might that situation look different from another perspective?

It's okay to make mistakes, it's part of learning something new

Indigenous nations and individuals are diverse, not everyone will follow the same protocols, use the same language or have the same opinions.

Don't assume you know. Ask.

Nothing for us, without us
BIPOC (Black, Indigenous and People of Colour)
Sometimes the focus of antiracist work is on Black and Indigenous people as opposed to other racialized groups. Racism is not monolithic and people of different identities will experience racism differently. Research has shown that Black and Indigenous people tend to be the racialized groups most impacted by food insecurity, poverty and police violence.
Settlers/guests who are not from European backgrounds may have a different relationship to Indigenous people than White Europeans and a different analysis of Canada's colonial history and current situation. They may also come from painful colonial and racist contexts, but continue to be guests on these lands.
Resources
If you're not sure where to start, begin with some of the resources on decolonizing. They will help you approach and process what you find in the other links.
For a list of Indigenous gardens and organizations, see
http://torontourbangrowers.org/indigenous-gardens-and-organizations


Becoming an Ally/ Decolonizing
http://unistoten.camp/no-pipelines/resources/allyship/
https://warriorpublications.files.wordpress.com/2014/01/ancestral_pride_zine.pdf - practical tips and ways to think about allyship
https://4rsyouth.ca/land-back-what-do-we-mean/ - how to be an ally in land reclamation
Unsettling the Settler Within Paulette Regan https://www.ubcpress.ca/asset/9215/1/9780774817776.pdf
http://activehistory.ca/2020/02/exposing-the-settler-playbook-responses-to-shutdowncanada-in-historical-context/ - some common tactics that non-Indigenous people use to maintain the status quo and deny privilege
Whitewashed Hope - a comparison of Indigenous world views to regenerative agriculture and permaculture
https://docs.google.com/document/d/1er9ixhlZWmwNgywzKPNPuGVfrM5KjeRBdVMiIsjtLUM/edit
http://www.groundworkforchange.org/what-is-decolonization.html list of readings and videos
In the spirit of needing to heal ourselves before becoming good allies or accomplices: https://shelterforce.org/2019/03/12/why-we-must-first-be-well-before-we-can-do-the-work-of-the-people/
For more examples of challenging White supremacy, privilege and fragility, see http://torontourbangrowers.org/dismantling-anti-black-racism-2


Land and water
https://redpaper.yellowheadinstitute.org/ - Land Back report on how Canada dispossesses Indigenous people from the land and what communities are doing to get it back
https://www.theglobeandmail.com/canada/article-indigenous-communities-in-atlantic-canada-create-water-authority-to/
http://www.waterallies.com/ - settler/ally UofT research group on water – research, building alliances and promoting strategies to protect water
https://indigenouslandstewardshipto.files.wordpress.com/2019/09/the_indigenous_environmental_history_of.pdf Indigenous environmental history of Toronto by Jon Johnson
Land as pedagogy: Nishnaabeg intelligence and rebellious transformation by
Leanne Betasamosake Simpson https://jps.library.utoronto.ca/index.php/des/article/view/22170
https://nonprofitquarterly.org/fire-forests-and-our-lands-an-indigenous-ecological-perspective/ - fire ecology
https://queertheland.org/ - Queer the Land is a Seattle-based collaborative project grounded in the self-determination of queer, trans, and two spirit Black/indigenous/people of color (QT2BIPOC) and the vision of collectively owning land and labor.


Indigenous food sovereignty
Dawn Morrison defines Indigenous Food Sovereignty https://www.indigenousfoodsystems.org/food-sovereignty
Food Secure Canada discussion paper on Indigenous food sovereignty https://foodsecurecanada.org/resources-news/newsletters/discussion-papers-peoples-food-policy
http://creatorsgarden.blogspot.com/ & https://www.facebook.com/CreatorsGarden/- Joseph Pitawanakwat shares teachings about plants, place and health through blog postings and videos
https://foodmattersmanitoba.ca/wp-content/uploads/2020/04/Urban-Indigenous-Food-Access-Final-Report-March2020.pdf
Treaties, territories and self-determination
https://native-land.ca/ international map with territories, languages, treaties
A Treaty Guide for Torontonians - multimedia exploration by the Toronto Treaty Collective
http://www.groundworkforchange.org/aboriginal-title-land-and-water-rights.html
https://nandogikendan.com/treaties/
https://www.firstpeopleslaw.com/ articles on current legal initiatives defending and advancing Indigenous peoples' Aboriginal title, rights and Treaty rights
https://firststoryblog.wordpress.com/ exploring the Indigenous history of Toronto
https://sidait-atris.aadnc-aandc.gc.ca/atris_online/home-accueil.aspx - Government of Canada database of treaties searchable by keyword, location or postal code.
https://www.canada.ca/en/department-justice/news/2017/07/realizing_a_nation-to-nationrelationshipwiththeindigenouspeoples.html - address by Jody Wilson-Raybould, MP on steps needed for true reconciliation
https://www.torontopubliclibrary.ca/detail.jsp?Entt=RDM3712063&R=3712063 Canadian Geographic Indigenous Peoples Atlas of Canada is available at the Toronto Public Library


Land Acknowledgements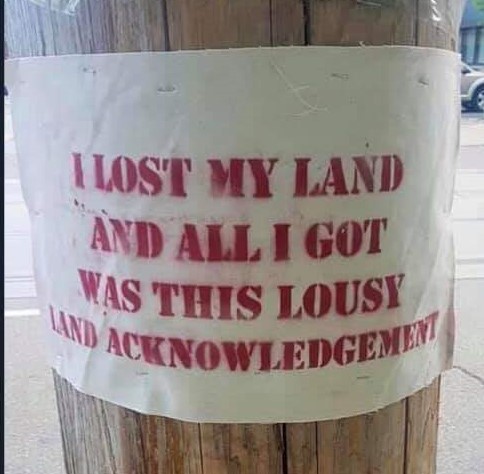 https://native-land.ca/territory-acknowledgement/
https://futuregroundnetwork.org/resource/how-to-acknowledge-indigenous-territory/


Key Documents
Truth and Reconciliation Commission (TRC) https://nctr.ca/ exhibits, links to reports, teaching resources
TRC Calls to Action https://ehprnh2mwo3.exactdn.com/wp-content/uploads/2021/01/Calls_to_Action_English2.pdf
https://www.thecanadianencyclopedia.ca/en/article/i-couldnt-forget-reflections-on-truth-and-reconciliation - author Lee Maracle's reflection on the findings of the Truth and Reconciliation Commission
National Inquiry into Murdered and Missing Indigenous Women, Girls and Two Spirit people https://www.mmiwg-ffada.ca/ - final report and calls to action, plus stories, art and video submissions from contributors
http://www.groundworkforchange.org/the-royal-proclamation-the-constitution-the-charter-of-rights-and-freedoms.html
The Canadian government knew about the conditions in residential schools as early as 1907 with the Bryce Report https://fncaringsociety.com/sites/default/files/dr._peter_henderson_bryce_information_sheet.pdf
Canadian Human Rights Tribunal finds Canadian government discriminates against Indigenous children https://fncaringsociety.com/sites/default/files/Information%20Sheet%20re%20CHRT%20Decision.pdf
United Nations Declaration on the Rights of Indigenous Peoples (UNDRIP) https://www.un.org/development/desa/indigenouspeoples/declaration-on-the-rights-of-indigenous-peoples.html - text available in multiple languages.


Language
https://ojibwe.net/lessons/beginner/the-sound-of-our-language/ pronunciation of Anishnaabowin
http://www.wakingupojibwe.ca/ teaching and learning Anishnaabowin
https://ogimaamikana.tumblr.com./ The Ogimaa Mikana Project is an effort to restore Anishinaabemowin place-names to the streets, avenues, roads, paths, and trails of Gichi Kiiwenging (Toronto) - transforming a landscape that often obscures or makes invisible the presence of Indigenous peoples.
https://indigenousstudies.utoronto.ca/ckq/ Ciimaan/Kahuwe'yá/Qajaq language initiative
https://www.noslangues-ourlanguages.gc.ca/en/ressources-resources/autochtones-aboriginals/apprentissage-learning-eng - Indigenous languages across Canada


Protocols
https://www.cbc.ca/parents/learning/view/powwow-guide - attending powwows
https://www.oise.utoronto.ca/deepeningknowledge/elders-invitation-protocol-resources - working with elders
Sema (tobacco):
https://www.torontomu.ca/content/dam/aec/pdfs/TEACHINGS%20ON%20SEMEH_Tobacco.pdf and https://tobaccowise.cancercareontario.ca/en


Two Spirited People
In the news
Wet'suwet'en land defence
http://unistoten.camp/supportertoolkit2020/
A transcript of Audrey Huntley's talk at a demonstration in Toronto on February 22, 2020 explains the importance of defending land and makes links to violence against women, children, trans and 2 spirited people.
https://www.theglobeandmail.com/opinion/article-in-sacred-tyendinaga-an-affirmation-of-the-spirit-and-significance-of/
Remains of children in residential schools
https://woodlandculturalcentre.ca/the-campaign/ - Save the Evidence campaign
https://earthtotables.org/essays/mush-hole/ - an essay on the Mohawk Institute and reclaiming food traditions, with facilitating questions
Multimedia
https://nandogikendan.com/treaty-violation-lessons/ - multimedia education site with an abundance of links, art and discussion questions
Canadian Geographic Indigenous Peoples Atlas of Canada has short essays from Indigenous contributors of many nations on a wide range of topics. Some content is online https://indigenouspeoplesatlasofcanada.ca/ The full volumes complete with maps can be taken out from Toronto Public Library branches https://www.torontopubliclibrary.ca/detail.jsp?Entt=RDM3712063&R=3712063
https://www.redressproject.org/exhibitions/ - multimedia art by artist Jaime Black highlighting murdered and missing Indigenous women
https://walkingeaglenews.com/ political satire
Earth to Tables Legacies https://earthtotables.org/ videos, photo essays and facilitation guides documenting intergenerational and intercultural exchanges between farmers, food activists and academics in Mexico, Six Nations and Canada.
https://moccasinidentifier.com - promotes public awareness of significant cultural historical sites and the ancestral presence of First Nations, Metis and Indigenous Communities.
http://activehistory.ca/remember-i-resist-i-redraw/ posters
http://leftycartoons.com/2008/10/09/the-story-of-bob-and-race/
http://www.groundworkforchange.org/having-crucial-conversations.html - videos
https://www.epl.ca/blogs/post/indigenous-stories-and-reconciliation/ 10 books to read from Edmonton Public Library
Music
Just a few artists: Leonard Sumner * The Halluci Nation (formerly A Tribe Called Red) * Snotty Nose Rez Kids * Leanne Betasamosake Simpson * Supaman * Iskwe * Kelly Fraser * Buffy Sainte Marie * Jeremy Dutcher * Tanya Tagaq
https://www.indigenousmusicawards.com/ for more ideas






Page updated on 2023-01-11 09:17:09