TUG Networking Meeting April 2017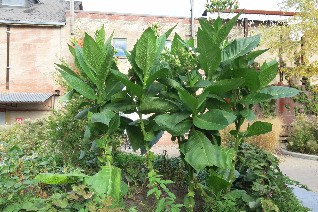 Next TUG Networking Meeting
Thursday, April 27 2:30-5:00 pm
Evergreen Brickworks
We'll hear from two enterprises:
The Growing Connection (
www.thegrowingconnection.com
) is working with schools, community groups and businesses locally to introduce food production to people who do not have access to traditional horticulture techniques nor to the time to use them. It is also developing an international network of practitioners.
Third Millennium Farming (
www.thirdmillenniumfarming.com
) is a young enterprise that is specializing in cricket farming. Starting from a small basement operation, it is in the process of expanding into a much larger facility in an industrial zone of Mississauga.
Then we'll have not one but two site tours:
TUG and the Toronto Food Policy Council's UA Working Group will be asking the City to officially proclaim an Urban Agriculture Day in mid-September. Share your thoughts on how we can use this event to engage a wider audience and build support for UA.
Everyone is welcome!
Location info:
Blakes Room, 2nd floor of the Centre for Green Cities building
550 Bayview Ave
Posted on