Toronto at UA World Summit in Tokyo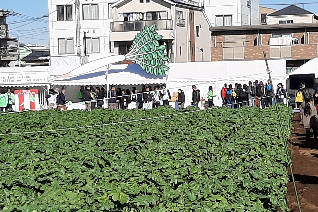 In 2019, the City of Nerima, Japan hosted urban agriculture experts from five cities around the world to exchange ideas and demonstrate the benefits of growing food in the city.
The following photo essays give a brief sample of the inspiring farmers, city initiatives and community support that we saw in Nerima.
An overview of Nerima City and some examples of municipal initiatives
Two case studies of production, marketing and other on-farm activities
Farmers and the City of Nerima work together to build community support for urban farms through events like the Annual Daikon Pulling Tournament and farmers' markets.
International Workshop on Living with Urban Agriculture Landscapes
After the UAWS in Nerima, the University of Tokyo and Green Connection Tokyo organized another two day conference with poster sessions, tours and discussions related to urban agriculture in Tokyo and other cities.
Additional links:
Links to UAWS participating organizations
Presentations at the summit demonstrated a wide range of ways that cities, non-profit organizations and universities are increasing access to green spaces and healthy food while addressing some of the more pressing issues of our time, such as inequality and climate change.
New York
London, UK
Seoul, Korea
Jakarta, Indonesia
Posted on