New research and training project for urban farmers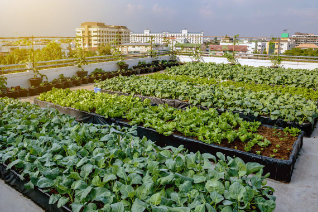 TUG is partnering with Seneca College and Greenest City on 3-year project to provide research, training and scale-appropriate microfinancing to urban farmers
Toronto has many highly skilled urban farmers, yet there are few training and financing supports tailored specifically to the unique circumstances of urban farm businesses.
Beginning in September, 2021, TUG will be working with Greenest City, Seneca College's School of Accounting and Financial Services and botanist Lesley Campbell on developing multifaceted supports to strengthen urban farm businesses. Features of the project include:
Conducting research with Seneca students and experienced urban growers on production methods that increase productivity
Developing curriculum for an urban farming business course integrating the research results and involvement from urban farmers in Toronto
Create a pilot Urban Agriculture Enterprise Support Program to attract and lend capital to eligible urban farmers and provide business mentorship
Developing a methodology for a land resource database for urban farmers and supportive organizations to identify potential spaces for growing
Creating sample land use agreements for negotiating access with a range of landholders
Keep an eye on the TUG website for regular updates on the project!
Posted on