COVID 19 response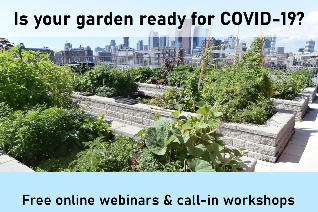 The Province and the City heard your voices!


Community gardens are considered essential for food security and are now open with COVID-19 safety measures in place.
New: COVID-19 and Community Gardens workshops for garden organizers
TUG, FoodShare and HoffmanHayes are offering free workshops for organizers in community and allotment gardens on public and private lands. You have a choice of an online webinar or a call-in workshop accessible by phone.
We will:
Review the COVID-19 guidelines from Toronto Public Health
Talk about strategies to meet the guidelines
Hear your concerns and what supports you think your garden may need for COVID-19 safety
The first series of workshops are:
Friday, May 15, 12:00 -1:30 pm webinar
Wednesday, May 20, 6:30-8:00 call-in workshop
Saturday, May 23, 10:00-11:30 webinar
More dates will be announced soon!
Getting and giving support
Our local seed producers were hit hard
by losing some of the biggest sales of the year when Seedy Saturdays were cancelled.
Please order your seeds online if you can and keep supporting our seed growers!
A list of seed companies with online stores is at
If you coordinate a garden or urban ag program, consider organizing a group seed purchase for people who don't have online access.
There is also a list of companies that will deliver soil amendments at
Urban ag projects often act as community hubs, so we have a strong role to play in getting useful information out to our communities.
> Encourage people to take protective measures:
Proper hand washing
Cough or sneeze into your sleeve or arm
Self-isolate if you're showing symptoms
Limit non-essential travel
Avoid large gatherings of people when possible
Instead of hugs & handshakes, use low-contact greetings (some people now call the elbow bump the "chicken wing"!)
Step up hygiene routines in public gathering areas by washing contact surfaces more frequently
Masks are now recommended for trips to enclosed spaces like grocery stores or pharmacies
> Set up support networks for people who need to self-isolate


Let us know if there are other concerns that come up.
Posted on