A greenhouse for Pablo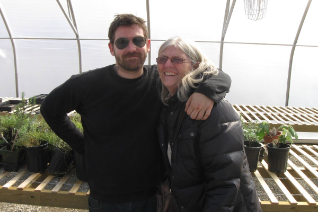 On April 25, 2020, Pablo Reilly left behind his mother, Colette Murphy, and us.
Many of us know Colette and Pablo through Urban Harvest, Colette's incredible company that provides so many of us with the heirloom seeds and seedlings that enrich our gardens, balconies, and lives. Colette has been a devoted and passionate member of our farmers' market communities for so long, and Pablo was with her every step of the way.
Now is our opportunity to support her, by raising funds to build a greenhouse in Pablo's honour.
When Colette's friends asked how we could support her, she asked us to help her build a greenhouse to remember Pablo. There couldn't be a better way to represent their special bond than a greenhouse, a space they both loved and where they spent so much time together.

Funds raised through a GoFundMe page will go towards building Pablo's greenhouse and to Colette's immediate expenses in these difficult times. Please share this campaign widely.
Posted on