Winning the Right to Food
October 22nd 2021. 14:00 to 15:30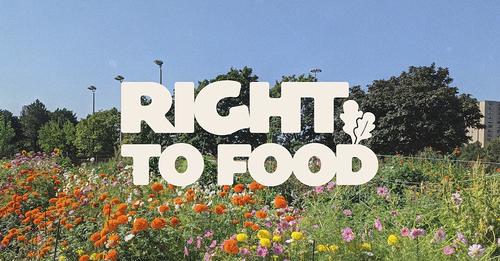 Winning the Right to Food in Toronto
by FoodShare Toronto
Fri, October 22, 2021
2:00 PM – 3:30 PM EDT
This town hall will feature folks from grassroots organizations around the city of Toronto to discuss our right to food.
FoodShare Toronto recently launched a Right to Food Campaign calling on the City to update the Toronto Food Charter and realize our right to food.
At this town hall we will discuss the need for a new food charter that centres the concerns and perspectives of those most marginalized and made vulnerable to food insecurity in Toronto. We will hear from community leaders that are doing the work.
We'll also talk about Toronto's current food landscape and the City's responsibility in addressing barriers to a community-driven and community-determined food system.
Finally, we'll discuss the future of food work and the food system in Toronto, and what it will look like when our Right to Food is respected and realized.
You'll hear from an incredible panel of speakers:
Zakiya - African Food Basket
Josephine Grey - St. James Town Community Co-op
laurie hermiston - Dashmaawaan-bemaadzinjin (They Feed the People)
Antonia - Uplift Kitchen
Moderated by Hansel Igbavboa from FoodShare.
In advance of the event:
Use our easy + quick email tool to contact your Councillor to let them know you support an updated food charter.
Follow FoodShare's Right to Food campaign on social media (@FoodShareTO) and visit our campaign website.
Follow the work of local food justice groups like the ones listed above. You can find them on Instagram at: @africanfoodbskt, @sjtcoop, @dashbema and @upliftkitchento.
Note: you will receive a Zoom link the day of the event.
https://www.eventbrite.ca/e/winning-the-right-to-food-in-toronto-tickets-190647881947