The Care in Carrots
September 22nd 2022. 13:00 to 17:00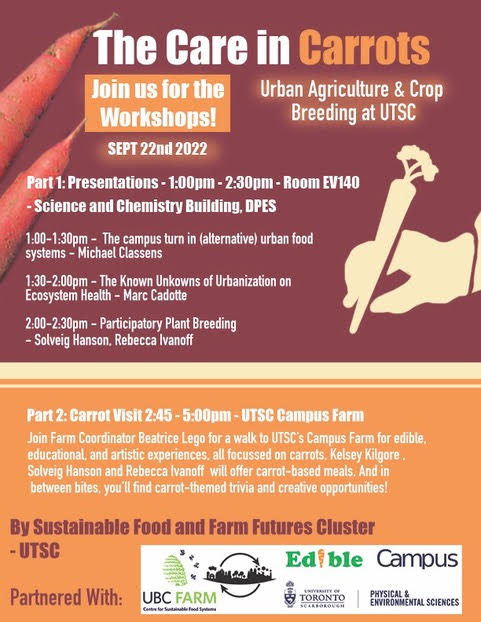 University of Toronto Scarborough Campus is offering two workshops on Urban Agriculture and Crop Breeding
September 22
1:00-2:30 presentations
2:45-5:00 carrot visit at Edible Campus farm
This event hosted by the Sustainable Food and Farm Futures Cluster at the University of Toronto Scarborough.
In two parts, a panel of talks and a campus farm visit, the event brings together crop scientists, agroecologists, and urban gardeners across Canada to witness – and sample! – the prospects of "participatory crop breeding." The panel will highlight examples of this work in action, while the visit to the farm is an interactive carrot tasting session with varieties from across the country, plus carrot-themed trivia!
Interested growers are invited to sign up through Eventbrite (registration is 50 people, so first come first serve!) Note: there are two registrations, one for the panel and one for the carrot tasting in case you'd like to attend just one part of the session. Please register for both if you plan to attend both.