Revitalising Traditional Foodways and Cultural Connection
October 25th 2021. 12:00 to 14:00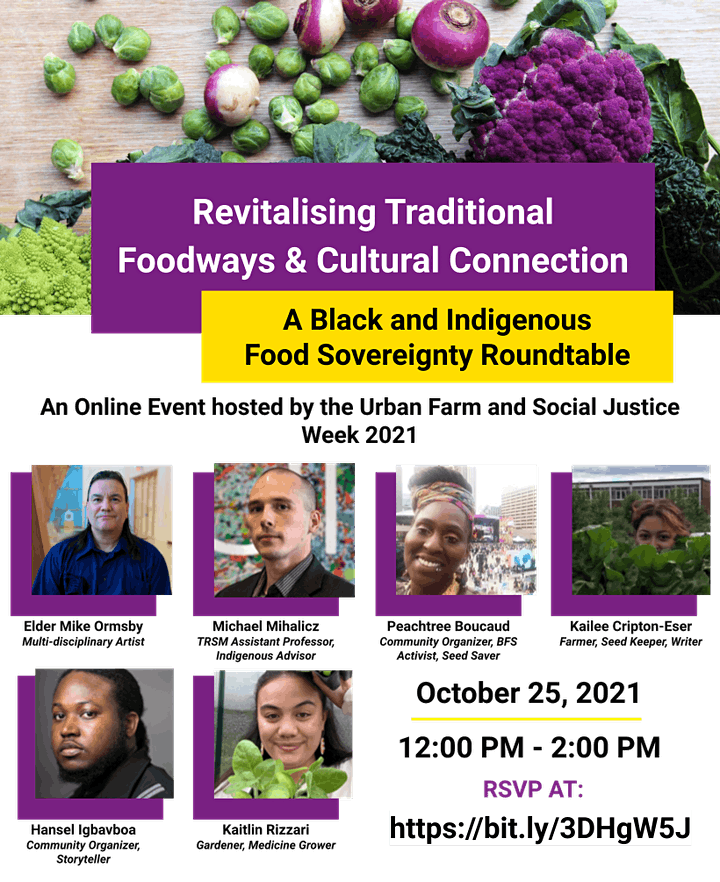 xUrban Farm: Revitalising Traditional Foodways & Cultural Connection
The focus of this roundtable includes attaining justice and sustainability for Black and Indigenous Food Sovereignty and Food Security
Black and Indigenous Food sovereignty and food security can attain justice through the revitalization and implementation of traditional food systems. Creating sustainable urban agricultur
e requires us to understand our relationship to food and medicine in modern urban environments. Food sovereignty challenges the current framework of global food systems in order to attain local sustainability and garnish support for these projects to continue.
With guest speakers from various backgrounds and expertise on Black and Indigenous Food Sovereignty, this panel discussion hopes to share the history of the traditional land that is occupied by X University. Reclaiming the land, food knowledge and food systems will empower and sustain the future of our communities.
Speakers for this event include:
Elder Mike Ormsby (Multi-disciplinary Artist)
Michael Mihalicz (Assistant Professor, Indigenous Advisor, TRSM)
Peachtree Boucaud (Community Organizer, BFS Activist, Seed Saver)
Hansel Igbavboa (Community Organizer, Storyteller, Creator)
Kaitlin Rizarri (Gardener, Medicine Grower, Seed Keeper)
Kailee Cripton-Eser (Farmer, Seed Keeper, Writer)
Moderators:
Sam Howden (Métis Graduate Social Work Student, Activist, Community Organizer)
Nicole Austin (Food Justice Advocate, Community Organizer, BFS Activist)
To learn more about each speaker please visit the the Social Justice Week event page.
*Zoom Link will be provided in the confirmation email once registration is complete.
**Please note that this event will be recorded and shared publicly after the event has ended.
The Urban Farm is offering a limited amount of free post-event gifts of tea and medicines that can be sent right to your door. If you'd like to receive a post-event gift, please register for the add-on and include a shipping address and phone number.