Farmlife Challenge
Start on April 19th 2021. End on April 21st 2021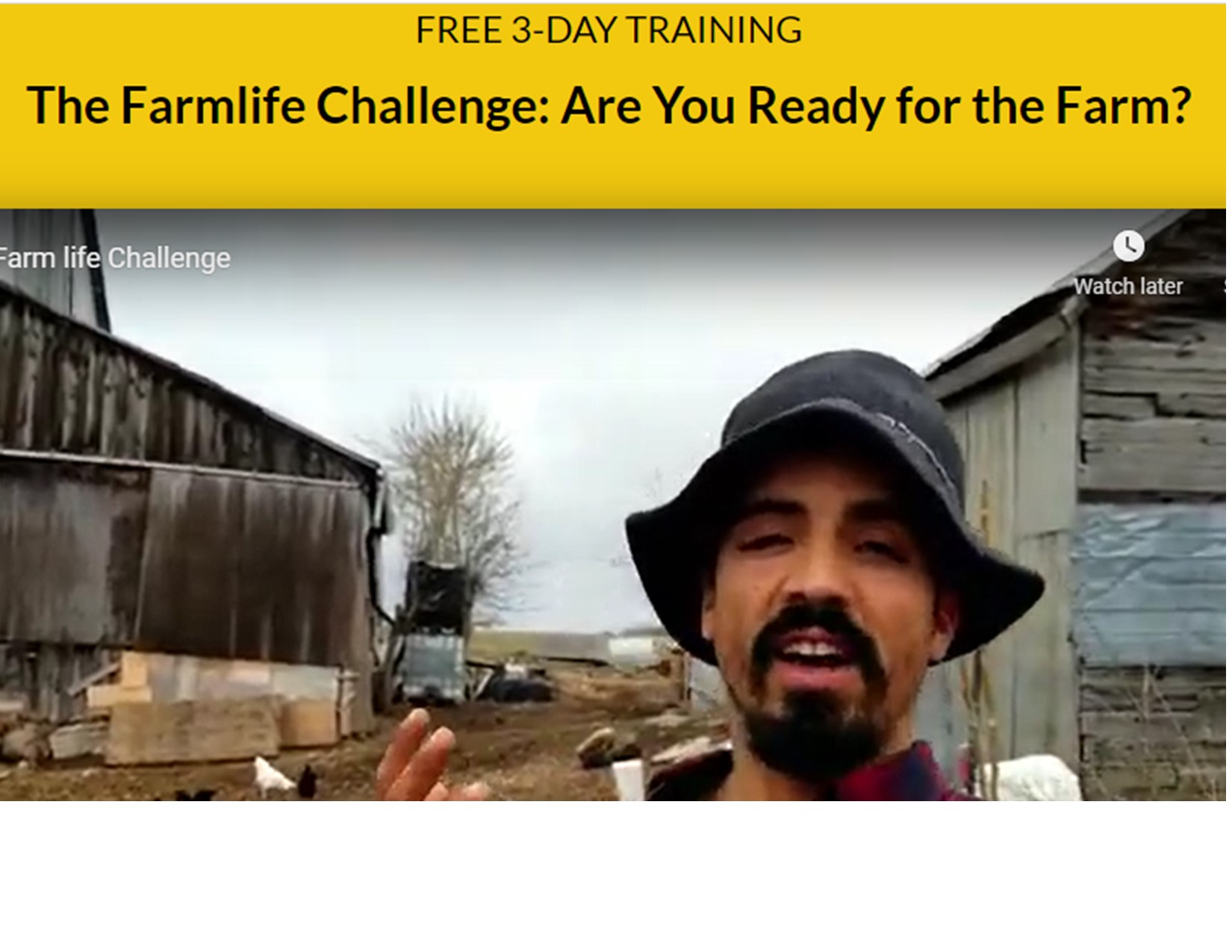 with Farmer Antonio of Cavaleiro Farm
Monday, April 19–Wednesday, April 21 at 2:00 p.m. each day
Free series of webinars
Have you wondered if you've got what it takes to live on a farm? Maybe you want to spend time working on a farm. Or you want to actually buy and live on a farm. Or maybe you even want to buy a farm and start a food business.
BUT you're not sure what you have what it takes. Because although you're passionate, interested, and have been learning about farming, you're still missing the practical experience to know for sure if farmlife is the life for you.
Enter the Farmlife Challenge. Three days where we go in-depth into what it takes to succeed in living the farmlife. Each day, we'll build on knowledge and activities we do together to uncover a clearer vision of what the farmlife looks like for you.
This is for you if:
You've learned the theory and read some books, but you want to have an actual engaging conversation with a farmer about what farmlife is all about.
You don't have the time to work on different farms to figure it all out. (We'll be looking at different strategies you can use to advance your farm learning more quickly.)
You've been dreaming about the farmlife for a while, but haven't started figuring out the path to get there.
Here's what you'll learn from this training:
Day 1: What is a day in the farmlife really like? Get an eye-opening look into what's actually involved in farmlife. Plus, learn what kind of skills and mindsets you need to succeed in the farmlife and enjoy it.
Day 2: What's the cost of entry to live the farmlife? We'll explore some of the many ways you can do the farmlife and different types of farm businesses you can pursue. You might be surprised at your options!
Day 3: What type of interests do you have? You'll reflect on what interests you about farming (e.g., growing food, making land better, raising animals, living a more simple life) and how that plays into your "farmlife roadmap."
Each day, we'll do a live, 45-minute session that combines learning and discussion. I'll share a quick training on the day's topic (20 mins). Then we'll use the rest of the time to discuss the day's reflection activity and open it up for a Q&A (25 mins).