Bees in the City
March 7th 2020. 09:00 to 16:30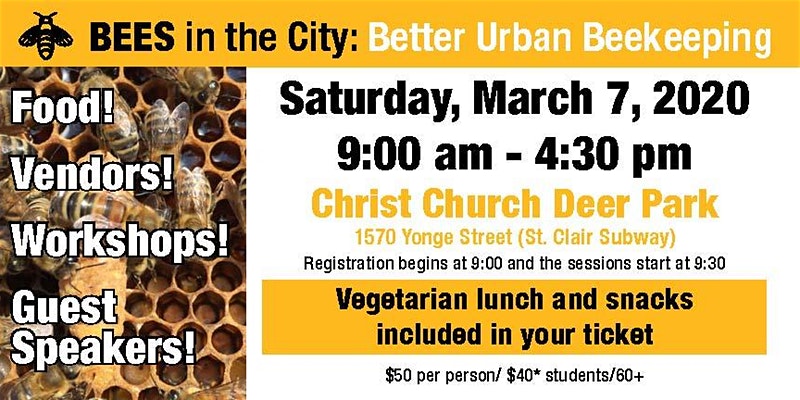 Saturday March 7
9:00-4:30
Christ Church Deer Park
This full day Urban Beekeeping related event features a wide variety of interesting concurrently run main stage presentations and smaller breakout workshops.
Educational topics to be covered include the bee life cycle, apiary management and apitherapy. You will hear about the nutritional value of honey, enjoy tasting a variety of honeys and learn about using honey in your cooking.
Vendors will also be on site selling a large range of products from the hive and bee-themed merchandise.
Morning and afternoon snacks, as well as a lunch, with lots of delicious food options to choose from, are included in your ticket.
There is a special rate of $40 for students and those 60+. Bursaries are also available for people who are interested in beekeeping but cannot afford a ticket. To inquire about bursaries or to order a 60+/ student tickets, contact Nancy at nbardecki@hotmail.com
Registrations begin at 9:00 am and sessions begin at 9:30.