Balcony Gardening: Community for Climate Action North Etobicoke Workshop
April 13th 2021. 14:00 to 15:30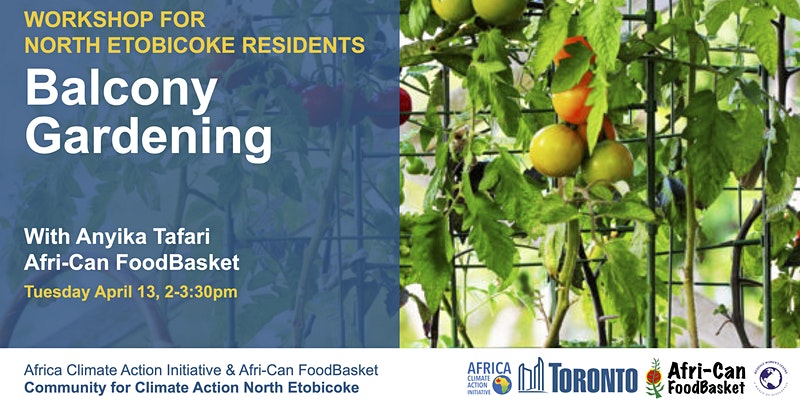 April 13, 2:00-3:30 pm
Community for Climate Action North Etobicoke & Afri-Can FoodBasket present a workshop for the North Etobicoke community
Have you ever wanted to make the most of your space and grow fresh food on your balcony? Join CCANE & AFB for a workshop on getting started with balcony gardening.
Facilitator: Tafari Anyika is the founder of Umoja Learning Circle, a community-based African-centred school at Islington and Albion. Tafari is also an educator with the Afri-Can FoodBasket, a community based non-profit organization that has been at the forefront of championing Food Justice and Food Sovereignty for Toronto's African, Caribbean, Black (ACB) community since 1995.
This workshop is being offered as part of Community for Climate Action North Etobicoke, a collaborative project led by the Africa Climate Action Initiative (ACAI) of the Canada Africa Partnership (CAP) Network to engage residents and community members of North Etobicoke in taking climate action!