Agritecture Xchange
Start on December 1st 2020. End on December 3rd 2020
December 1-3, 2020
Agritecture Xchange is a virtual conference connecting key innovations in the field of AgTech to the future health of our cities.
In the face of climate change, rising populations, rapid urbanization - and a global pandemic - cities face increasing pressure to forge new partnerships and attract innovative solutions to guarantee the food security of their residents.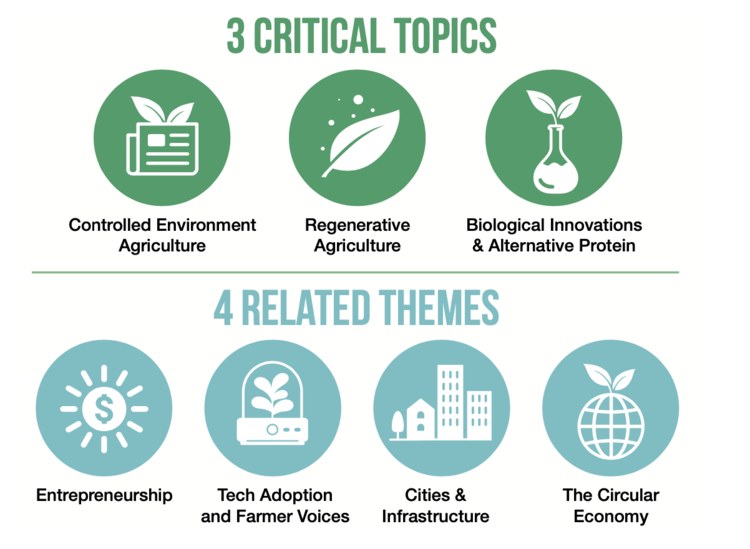 Registration Opening Oct 1st!
DAY 1 | TUESDAY, DEC 1 | 12:00-3:30p EST
Welcome Keynote | How Entrepreneurship is Fostering a New Age for Climate-Smart Agriculture
Agritecture Founder & CEO Henry Gordon-Smith will break down today's major drivers of entrepreneurship in the AgTech space with case studies of creative approaches to spurring impactful innovation from around the world.
1.1 | Investor Viewpoint: Most Impactful AgTech Developments of 2020
Investors from across the globe discuss the most compelling and impactful developments they've seen in the AgTech space this year - and make predictions for what comes next.
1.2 | Food System Responses to COVID-19
There is broad recognition that stronger regional food systems can play a pivotal role in a post-pandemic world. Is there evidence of this happening already? What policy and innovation examples can we look to for inspiration?
1.3 | Controlled Environment Agriculture: Deep Dive
Where is the industry today, and where can it be 5 years from now? What will help us get there?
1.4 | Access & Barriers to Technology
Tech-based platforms and products are entering the ag market in record numbers, some with gamechanging potential. Many more are in R&D. But how can small- to medium-scale farmer reap the rewards from these technologies?
/ / /
DAY 2 | WEDNESDAY, DEC 2 | 12:00-3:30p EST
2.1 | Regenerative Agriculture: Deep Dive
Where is the industry today, and where can it be 5 years from now? What will help us get there?
2.2 | Advancing Sustainability in CEA through Technology and Design
While CEA is often lauded as a more resource efficient method of farming, the major drawback to date has been its energy use. Here we'll discuss emerging technologies and engineering solutions that are lessening the (electrical) load.
2.3 | Education, Training, & Outreach in AgTech
How are universities, extension agencies, accelerators, and training programs advancing the adoption of new technologies and more sustainable methods? What are the gaps and challenges?
2.4 | From Ideation to Fruition
Entrepreneurs and startup experts discuss the process of moving from "zero to one" as quickly as possibly in the AgTech realm
/ / /
DAY 3 | THURSDAY, DEC 3 | 12:00-3:30p EST
Closing Keynote | How Cities Can Use Their Purchasing Power to Build a Resilient Food Economy
Paula Daniels, Co-Founder of the Center for Good Food Purchasing, has researched, worked on, and taught about effective food policy for much of her career. In this special keynote, Paula will discuss examples of cities using their purchasing power to set targets and spur local entrepreneurship. She'll also give a look towards the future in our three focus areas: CEA, Regenerative Agriculture, and Alternative Proteins.
3.1 | Bio Innovations & Alternative Proteins: Deep Dive
Where is the industry today, and where can it be 5 years from now? What will help us get there?
3.2 | Intrapreneurs: Leadership From Within
A spotlight on leaders who are driving innovation within larger organizations.
3.3 | Equity in the Local Food Economy
Local food production and manufacturing is exploding. But some are getting left out of this new food economy. What strategies can cities use to ensure that fresher foods, greener spaces, and newer jobs make their way to under-resourced and/or historically-marginalized communities?
3.4 | Harnessing Untapped Synergies Between Rural and Urban Agriculture
Leaders discuss the benefits of urban and rural ag players working in harmony to strengthen regional food systems.