Dismantling Anti-Black Racism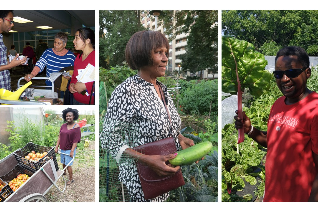 A message from TUG's Co-coordinators


While inequity in many forms has been a concern to TUG and the broader urban agriculture community for a long time, the COVID-19 pandemic and reactions to the killing of George Floyd and Regis Korchinski-Paquet have brought particular focus to anti-Black racism.


Black (and Indigenous) communities in Toronto are disproportionately impacted by poverty, food insecurity and deaths due to COVID-19. Policies that don't recognize and address unequal access to resources perpetuate inequitable access to land for growing.


This moment reminds us that hard conversations are necessary and will be until everyone has equal access to opportunity, resources, safety and security. Silence allows injustices and inequities to flourish. Talking and learning about racism must be accompanied by work on tangible, systemic change.


People ask what we as TUG Co-coordinators are doing to combat anti-Black racism and support Black growers. In general terms, we strive to:
Provide platforms to amplify the voices of equity-seeking groups in the urban agriculture community,

Build partnerships and relationships so that our projects are directly shaped by BIPOC urban growers and community leaders,

Prioritize people from equity-seeking groups when we do have resources and opportunities to share, and

Support urban growers who are more privileged to learn about white supremacy and other systemic forms of oppression through providing resources, advancing our own learning and encouraging challenging conversations.


This is an open invitation to our community.


For those who benefit from white privilege, let's learn together, commit to rooting out inequities in our practices and systems and hold each other accountable. We've shared some of the resources we've found helpful at


To the BIPOC (Black, Indigenous and people of colour) growers and community organizers who have worked to help us understand racism and white supremacy, thank you for your patience, insight and continued engagement. We hope you will continue to call us out when our actions don't live up to our words.


Joe, James and Rhonda


We acknowledge that we are not Black or Indigenous ourselves and this statement comes from a position of privilege.


Posted on